Temporary Modular Buildings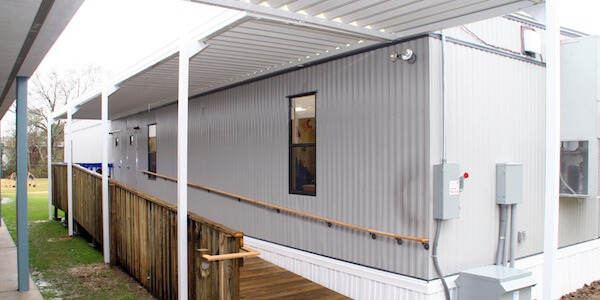 Relocatable, prefab, portable, temporary, or "mobile module" – all these words refer to a "modular" building. Modular buildings are

constructed off-site (in an indoor manufacturing plant),
made of individual modules (three-dimensional sections), and
delivered separately to the site and then placed into position to create the structure.

On-site preparation – foundation and utility work – can be completed at the same time that the modules are being constructed at the plant, allowing for faster build time, delivery, and installation.

Why Choose a Temporary Structure?

Temporary modular buildings, mainly constructed from wood, are meant for short-term needs – mostly a few months to a few years (but can last longer) – and can be relocated when no longer needed. Permanent buildings, on the other hand, are normally made of steel, concrete, and wood, meant to last for decades. Permanent modular buildings are set in their foundations; despite this, they can be moved, with extra effort. Users can lease or buy temporary units. Permanent buildings are mostly purchased but there are lease options as well.

How are Temporary Modular Buildings Used?

These temporary buildings can prove beneficial for

start-up businesses or schools
schools facing enrollment increases
temporary programs needing more office space
relief from natural disasters
swing space during construction projects or renovation
man camps and workforce housing
places of worship (e.g. churches, temples, mosques)
health care facilities
government needs
Benefits of Temporary Buildings
The process is more eco-friendly than on-site building. Construction/assembly generates minimal site disruption, less waste, and fewer environmental pollutants.
Buildings are ready sooner. Delivery often comes 30 to 50 percent faster, as well as more efficiently, than with conventional building, due to the shorter build time. Occupancy is available in as little as 60 to 90 days, and used buildings can be ready to go in only a few weeks' time.
Costs are lower, again due to reduced wait times and greater efficiency.
Spaces are healthier, because construction takes place in a controlled indoors manufacturing plant environment, protecting the building process from weather extremes. There is less mildew, mold, rust, and weather damage, reducing respiratory problems and keeping materials sound.
Users have far more flexibility with building life cycles. Buildings can be moved from spot to spot or easily removed when they are no longer needed, or reconfigured with extra sections or whole floors.

The bottom line is that it's a faster building process using high-quality and sustainable materials. Buildings can be removed, reconfigured, and relocated relatively easily.

Get a Quote for a Temporary Modular Building

When seeking a quote, buyers or renters may be asked for information such as

personal information
company information and industry type
location
space (square footage) needed
project description/construction type
date when you'll need the product ready

You'll have the opportunity to lease, lease to purchase, or buy. Temporary modular buildings meet the same building codes as traditional construction, and they are durable yet easy to move. Despite the moniker "temporary," they can be attractive, efficient, and sturdy. Whether the goal is a temporary or permanent structure, modular buildings are well-known for their cost savings, high quality, and flexibility.