Washington, D.C.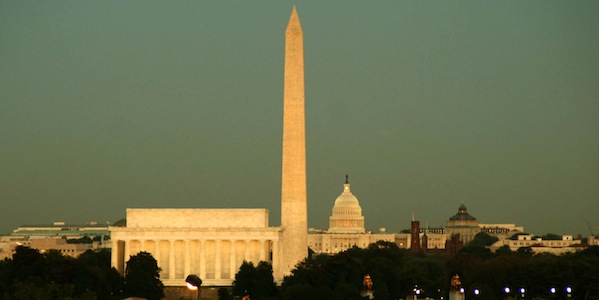 Frequent thunderstorms and occasional tornadoes and hurricanes occur during the summer months in Washington, D.C. Summers are both hot and humid (with an average temperature in July of around 80 degrees), while spring and fall are generally warm, and winter is cool, averaging 38 degrees with 15 inches of snow throughout the season. The highest temperature on record, 106 degrees, was reached in 1930 and the lowest, -15 degrees, in 1899.

Mobile Office Solutions for Washington, D.C.

You'll want to focus on certain features when looking into renting or buying mobile offices, classroom trailers, modular buildings (either temporary or permanent), or storage containers. These features include

weather-resistant facilities for office or storage space
skirting (to protect underside from harsh weather conditions)
awnings
canopies
tie downs
insurance and extended warranty options
air conditioning and heat (for humid summers and cold winters)

Mobile solutions can be extensively customized, so you can design a feature set that will best meet your needs for safety, weather, or any other factors.

Building License and Permit Information

No matter what you want to accomplish – renovating facilities, building a new home, or even adding a new fence – building permits are part of life. Fortunately, D.C.'s Department of Consumer and Regulatory Affairs helps to simplify the permit process with information on the details of obtaining one.

Everything you'll need – regulations, zoning, codes, and online permit applications – can be found on the DC.gov website.

Nearby Counties and Cities

Most counties and cities near Washington, D.C. are located in the nearby states of Maryland and Virginia, including

Montgomery County, to the north, and Prince George's County, to the east, containing the cities of Rockville, Silver Spring, and Bethesda
Arlington County, to the west, and Fairfax County, farther to the west, containing Falls Church, Alexandria, and Vienna