Portable Classrooms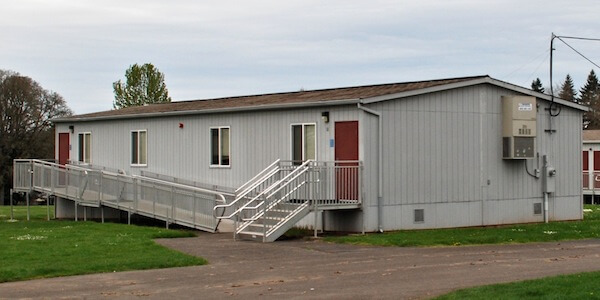 Modular classrooms (also called portable classrooms or modular classroom trailers) come in a wide variety of types and sizes. Ranging from small individual classrooms to multi-story behemoths, they serve as temporary or permanent buildings on school campuses throughout the nation. Educational institutions that benefit from additional space, including

public
private
preschool
secondary
college or university facilities

Trailers have a variety of configuration options – portable, permanent, technology-centric, green, and child care, to name a few. If you need extra space now that can easily be relocated and configured, then portable classrooms may be the answer.

Why Lease or Buy a Portable Classroom?

Outdated facilities, growing student populations, overcrowding – these factors make classroom trailers a big help when educational facilities need more flexibility in accommodating students. Available options allow for renting, leasing, or buying new (or used) facilities. This additional space can support increased enrollment, or new classrooms can house classes during renovation or modernization of school facilities. Costs depend on your location, local building codes, size requirements, and similar factors.

Customization is a large part of the process. Options include

ramps
steps
furniture
toilets
white boards
technology
green environmental solutions (such as energy-efficient lighting, recycled floor and wall coverings, and renewable energy)
child-care and day-care solutions
decks

When calculating space requirements, the IBC code is used, mandating a minimum of 20 square feet per student in a classroom, and 50 square feet in a lab or shop. Your local school district or building department may have tougher standards.

Relocation is not a problem with these facilities. In spite of the label "temporary," they are constructed from durable, high-quality material. Smaller typical standard widths may include 12′, 14′, 24′, and 28′ (larger rooms are also available), while heights are usually around 8′. Lengths can vary greatly, allowing for customized classrooms to suit your school's needs. Standard floor plans are available, too, if required. The point is to give you the flexibility to support your activities.

The Real Point

Don't let yourself end up with a trailer or building that, even though low-cost, is also low-quality. Research and consult with building professionals to avoid compromising student health and safety. The key is to focus on the design and materials used. Another reason to consult with the pros in your state or city is to stay on top of building code issues. Even when it comes to portable classrooms, there are complexities that vary from state to state.